Välkommen till årets Svenska Mästerskap i Livepoker!
Kom och ställs mot andra hungriga hajar och kända svenska pokerprofiler i kampen om att få titulera sig "Sveriges bäste pokerspelare"!
(English version follows the Swedish text)
Live-SM i poker spelas i år på klassiska Casino Di Venezia, beläget på Malta. SM-programmet sträcker sig från måndag 27e september till lördagen den 2a oktober (se mer specifikt program nedan).
De discipliner som innefattas i det officiella turneringsprogrammet är Texas No limit Holdem (Main Event), Pot Limit Mörkpoker och Pot Limit Omaha (Hi). Dessa turneringar är öppna för personer som fyllt 18 år,som också uppfyller något av nedanstående
Är mantalsskriven i Sverige
Innehar svenskt medborgarskap
För att förtydliga går det alltså för en person som inte har svenskt medborgarskap men är permanentboende i Sverige att deltaga.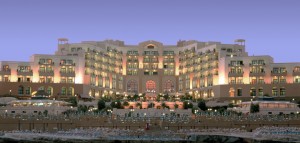 Pokerförbundet har i ett samarbete med femstjärniga hotell Corinthia möjligheten att erbjuda dubbelrum  för 100 € natten, inkluderande  frukost samt busstur till och från Casino Di Venezia alla dagar . När ni bokar deltagande i SM så skickar ni samtidigt information om vilken dag man tänker anlända samt checka ut från hotellet.  Så fort vi mottagit betalning på vårt konto får ni via mejl en bekräftelse. Se instruktioner för betalning längre ned.
Här nedan ser ni det fullständiga spelprogrammet för Poker-SM, samt kostnaden att delta i de olika eventen. (Som tillägg till dessa turneringar kommer casinot att arrangera fristående turneringar , som är öppna även för lokalbefolkningen, och cashgame-bord för dom som så önskar.):
Spelprogram Poker-SM 2010
Måndag 27 september:
18:00 Mörkpoker Pot Limit, 1 rebuy/addon €550+50
Tisdag 28 september:
14:00 Finalbord Mörkpoker
18:00 Pot Limit Omaha, 1 rebuy/addon €550+50
Onsdag 29 september:
14:00 Main event dag 1A No Limit Texas €1000+150
18:00 Omaha finalbord
Torsdag 30 september:
14:00 Main event dag 1B No Limit Texas €1000+150
Fredag 1 oktober:
14:00 Main event dag 2
Lördag 2 oktober:
18:00 Main event finalbord
Kvala in till SM
De officiella partners för Poker-SM 2010 är i full gång med satelliter. Det finns fortfarande många chanser att kvala sig in till Sveriges mest prestigefyllda pokerturnering.
Våra exklusiva samarbetspartners till Poker-SM 2010 är följande:
För att deltaga i turneringen krävs att du är medlem i Svenska Pokerförbundet (medlemskap kan lösas på plats på Malta) samt att du är svensk medborgare och/eller folkbokförd i Sverige.
Betalning/Bokning:
Vid betalningen betalar ni in den totala summan för de event ni vill deltaga i samt hotellkostnad  för de nätter ni vill bo á € 100. Betalningen sker då i SEK och där har vi i paritet med växlingskursen 2010-08-10 satt en kurs på 9,60 kr. Priserna i SEK på turnering och hotellrum blir således:
Main Event Texas No Limit Holdem 9600 kr + 1440 kr = Totalt 11040 kr
Mörkpoker Pot Limit  5280 kr + 480 kr = 5760 kr
Omaha Pot Limit 5280 kr + 480 kr =5760 kr
Hotellrum per natt 960 kr
För att boka plats till ett eller flera event samt hotellrum gör ni som följer:
Betala in den summa som inköp plus hotell blir och betalar in till Svenska pokerförbundets konto: 3257 17 09437 NORDEA . Referens på inbetalningen är i ert efternamn, som det står i PASS/leg.
Skicka också ett mail till info@svenskapokerforbundet.se innehållande följande information:
Ert namn (som det står i ert pass/leg) och eventuellt också namnen på andra personer ni betalar för. Dessutom behöver vi födelsedatum så att det inte uppstår missförstånd (vi behöver dock inte de sista fyra) T ex om ni heter Anders Persson men ni betalar samtidigt inköpet för Erik Svensson så skriver ni namn och födelsedatum för båda personer.
Vilka event ni vill delta i (om main event även om ni vill spela dag1 eller dag1b)
När ni anländer och när ni vill checka ut från hotellet (då ni bokar genom oss)
Den summa pengar ni har betalt in och vilket datum ni betalade.
För övriga frågor maila info@svenskapokerforbundet.se.
English version:
Come and set against other hungry sharks and famous Swedish poker profiles in the fight for the title of "Sweden's best poker players"!
The Swedish Championsip in poker is played this year in the classic Casino Di Venezia, located in Malta. The program runs from Monday 27th September to Saturday, 2 October (see more specific applications below).
The disciplines included in the official tournament program is Texas No Limit Hold'em (Main Event), Five Card Draw and Pot Limit Omaha (Hi). These tournaments are open to persons aged 18 years and older, which also meets at least one of the following requirements:
Has a permanent Swedish address
Holds Swedish citizenship
To clarify, it is ok for a person who has Swedish citizenship but not permanent residents in Sweden to participate. Or the other way around.
Poker League is in cooperation with five-star hotel Corinthia ability to offer double rooms for 100 € night, including breakfast and bus ride to and from the Casino Di Venezia every day.When you book your participation in the Swedish Championship, we will send you display information about which days you intend to arrive and check-out from the hotel. Once we receive payment on our account, you will get an e-mail confirmation. See instructions payment below.
Below you can see the full schedule of Poker Championship, and the cost to attend the different events. (In addition to these tournaments, the casino to hold separate tournaments, which are also open to locals, and cash game table for those who wish to do so.):
Schedule for Swedish Poker Championship 2010:
Monday, September 27:
18:00 Five Card Draw, one rebuy / addon € 550 +50
Tuesday, September 28:
14:00 Final Table Five Card Draw
18:00 Pot Limit Omaha, 1 rebuy / addon € 550 +50
Wednesday, September 29:
14:00 Main Event Day 1A No Limit Texas € 1000 +150
18:00 Omaha final table
Thursday, September 30:
14:00 Main Event Day 1B No Limit Texas € 1000 +150
Friday, October 1:
14:00 Main Event Day 2
Saturday, October 2:
18:00 Main Event Final Table
Qualify for the Swedish Championship in Poker
The Official Partners of Poker Championship in 2010 is in full swing with the satellites. There are still many chances to qualify to Swedens most prestigious poker tournament.
Our exclusive partners to Poker Championship 2010 is as follows:
Unibet
Nordicbet
Betsson
Paf
Expekt
Potraiser
5050 Poker
PokerStars
Betfair
Payment/Booking
For payment, you pay the total sum of the events you want to participate in, and hotel costs for the nights you want to live á € 100.
To reserve a spot for one or more events and hotel rooms do you do as follows:
The sum of the purchase plus the hotel and will be paid into the Swedish Poker Federations Account: 3257 17 09 437 NORDEA. Reference of payment is in your last name, as stated in passport / ID.
Send also an email to info@svenskapokerforbundet.se containing the following information:
Your Name (as it appears in your passport / leg) and possibly also the names of other people you pay for. We also need the birth date so that there are no misunderstandings (we do not need the last four) For example, if your name is Anders Persson, but you pay for your purchase while Eric Smith will write your name and date of birth for both people.

Which events you want to attend (in the Main Event also if you want to play day1 or dag1b)

When you arrive and when you want to check out from the hotel (when you book through us)

The amount of money you have paid in and what date you paid.
For other questions email info@svenskspokerforbundet.se.